About Us
Did you know that your body has an innate capacity to heal? At Family Wellness Centre we are passionate about providing natural chiropractic care to help your body not only heal but stay healthy.
It's our desire to help Val Caron, Valley East and Hanmer residents experience relief and discover optimal health to live more abundantly. Getting your spine checked will ensure that you have proper movement for a healthy nervous system and life.
A Focus on Family Wellness
We enjoy caring for patients of all ages, from hours-old newborns to those in their late 90s. Just as our patient community is diverse, the range of chiropractic techniques we offer is varied to meet patients' unique needs.
It is important to get your children checked at as young of an age as possible. With regular chiropractic checks, they will have a healthy spine and the best possible overall health.
Regardless of your age, chiropractic can help give your body a stronger defense from pain and illness.
Relieve, Restore and Rebuild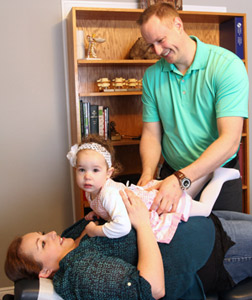 Our practice philosophy is based on addressing the vertebral subluxation complex, which holds your body back from self-regulating as well as recognizing and adapting to its environment. We seek to educate and inspire our community members to take control of their health. Health is a dynamic process, not something you either have or lose. It needs constant attention.
Our mission is to serve mankind with our distinct health and wellness paradigm to relieve, restore and rebuild the body to its greatest potential.
Our hope is for our patients to have the best health possible, functioning at their greatest potential. We are here to help you improve your health, get more energy and live a vitalistic life.
We seek to relieve the initial problems you present with by addressing the underlying cause. Then, we work to restore your body's ability to function properly and rebuild this function to where it can be maintained by the body.
Let us be your primary source for all your health and wellness needs. Book your appointment online or contact us to discuss improving your health today!
---
Family Wellness Centre | (705) 897-6711